Travelers: Esra Bezek Dikencik & Tolga Dikencik – Founder & Creative Director
What was the purpose of your travel? Surf, yoga and diving but we actually ended up surfing the whole trip and skip diving. The surf was very good due to these mystery swells generated by a tropical storm in South East Pacific.
With how many people did you travel? Just the two of us.
Where did you stay? A beautiful ocean villa over looking a reef break at Naladhu Resort, Maldives.
What did you most like about the trip? Calm, crystal clear waters, palm- fringed white sand beaches, uncrowded waves, perfect peeling surf that can be seen a short distance away, abundant marine life and Tropic surf guides making every effort to make sure you catch the best wave of your life and push your limits.
Could you share an unforgettable memory about the trip? Esra: Getting barreled for the first time, Tolga: Watch my wife getting barreled for the first time.
Your most surprising find during the trip. Baby reef sharks chasing us around the sandbanks in the middle of the ocean.
Favorite restaurant or food you have tried during your trip? Usually quality food in Maldives is a big challenge due to remoteness of the islands and logistics, but the Thai Restaurant had amazing sea food and daily fresh catch.
Any hidden gems you could whisper to us? There are two other islands, Dhigu and Veli, run by the same resort in the lagoon. It is very easy to do island hopping for a drink and come back to Naladhu. Naladhu is the most secluded of the three so if you enjoy your quiet and peace, pick Naladhu.
Would you go back? Yes!
Could you list a few of your favorite finds you came back with? These can be anything from traditional finds to airport finds to hotel creams! Sea shells, some dead corals washed out on the beach, origami birds made of palm tree leaves.
Any tips that might be useful to know before going there? If you like surfing, book the trip with Tropicsurf. They will get you better rates with a surf package.
Next stop you would like to visit? Nicaragua is on the top of our list.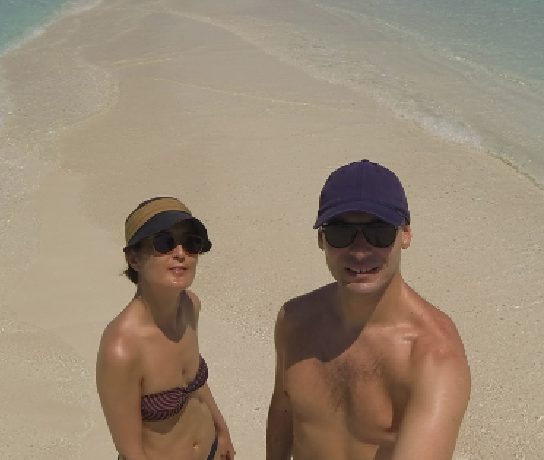 Founder & Creative Director