Travelers: Esra Bezek Dikencik & Tolga Dikencik – Founder & Creative Director
What was the purpose of your travel? To unplug from the city life and catch some waves.
With how many people did you travel? Just the two of us.
Where did you stay? Mukul Resort a luxury boutique hotel set on a 1,670-acre private beach community between tropical trees and a stunningly, empty sand beach on the Pacific Coast of Nicaragua. Btw (Mukul means secret in Mayan)
What did you most like about the trip? The wildlife & nature; there are three volcanoes in the country so think nature on steroids. Friendliness of Nicaraguan people was also very welcoming. We also liked the fact everything is backwards and we mean it in a positive way; still unspoiled. The resort itself is also amazing, it even had it private beach break and a point break for surfing.
Could you share an unforgettable memory about the trip? We went to a surf break on the Pacific coast 45-minute Panga boat ride away. The weather turned out to be nasty with too much offshore wind. When we arrived at the break the waves were unpredictable and was changing direction. If you wiped out and wanted to swim to the safety zone, there would be none, almost everywhere was an impact zone. Esra managed to catch a perfect left and ride it all the way and then she literally got crushed by 20 waves in a row and was totally exhausted. I was a bit luckier because my board was broken in half during an early wipe-out and had to call it a day. You don't argue with nature…
Your most surprising find during the trip? The huge Iguana on our porch.
Any hidden gems you could whisper to us? We did this Canopy zip line in Mombacho Volcano national Park. It included a network of 17 trees setup in the rain forest over the coffee plantations. It was raining when we did it so the zip line was faster than usual. We ended it with a free-fall from a tree. Super fun.
Could you list a few of your favourite finds you came back with? Rum flavoured coffee we bought from Mombacho Volcano coffee plantations. They bathe the beans in rum before roasting. Some hand made terra cotta ceramics by local Nicaraguans.
Next stop you would like to visit? We are thinking Alaska or British Columbia.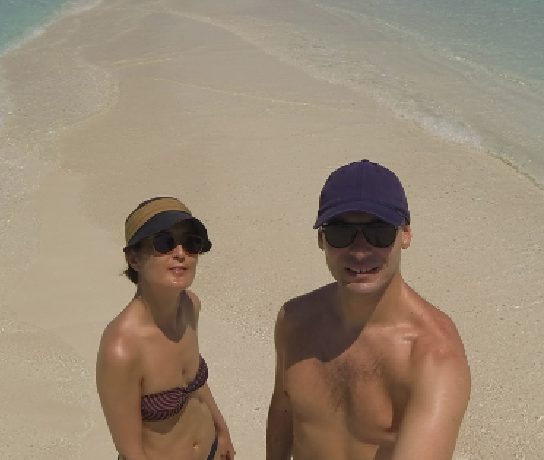 Founder & Creative Director