Discover our '74Escape Gift Edit featuring Beril Nur Denli's and Kadir Ertürk's ceramics, Rafael Indiana's Amphisbaena Bracelet, Dice Kayek Jacquard Maxi Cardigan and more…
'74CERAMICS
Beril Nur Denli – Oxymoron, Lilac #7, 2020
Oxymoron refers to a self-contradictory word or a group of words. Questioning the link between objects and functionality, Beril Nur Denli creates a unique piece by using stoneware clay. Although the piece looks functional for use at first glance, multiple sprouts or handles do not let it to act like a jug or a vase, depicting an oxymoron.
Kadir Ertürk uses mold and free shaping in this work, creating an exquisite piece, Grooves.
Gift Edits From '74Escape
Leave your loved ones speechless with our coolest picks! Find the perfect gift that is as one-of-a-kind as your own special love.
BEGUM KHAN – Scarab Mon Amour Earrings Champagne Gold Plated
Embrace your romantic side with these dramatic double-drop earrings. Lovingly handcrafted in the Istanbul atelier, the Scarab Mon Amour earrings feature two heart-shaped pendants suspended from a scarab beetle design, entirely covered in champagne pavé-set gemstones.
Belkıs Balpınar – Artist Throw Spiral #3
ISTANBUL'74 presents the limited-edition Artist Throw by artkilim pioneer and textile artist Belkıs Balpınar. Carrying Balpınar's most prominent spiral forms, the throw is specially developed by the artist for this project. Crafted from Lambswool. Made in Istanbul. 2021.
DICE KAYEK – Gathered Sleeve Cardigan
This statement cardigan is knitted from fine Merino wool with a supple, mid-season weight. Its straight fit, rib crewneck and concealed placket contrast playfully with the thick, fluttery gathers which define its bishop-like sleeves.
Dice Kayek – Jacquard Maxi Cardigan
Knitted from thick wool, this lofty cardigan's elongated silhouette is created by an overblown diamond stitch and outfitted with raglan sleeves and a slit hem.
FABULA & TALES x '74ESCAPE – Suede Royal Slippers | Terra Cotta
'74Escape x Fabula & Tales suede royal slippers feature the iconic symbol of '74Escape: elephant. As our brand duo is all about uniqueness and passionate discoveries, our meticulous golden elephant embroidery conveys the message of good luck, success, wisdom, and experience.
RAFAEL INDIANA – The Amphisbaena Bracelet
Crafted in 925 sterling silver + 24k gold plated. Set with 2 moissonite gems and red garnets in eyes and neck. Indiana hand carves his bracelet's from wax making each piece unique, which is what gives it it's authentic ancient beauty.
RAFAEL INDIANA – Apollo Pendant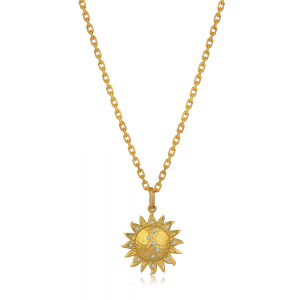 18k gold vs1 diamonds & 14k chain. This pendant is a depiction of a sun and represents the god of the sun Apollo.
SELIN KENT – Josephine Baroque Pearl Drops
Part of the tropical-inspired Josephine Collection, these drop earrings feature a geometric top component that contrasts beautifully with the organic baroque pearl drops.
SELIN KENT – Gaia Vertical Necklace | White Gold
Selin Kent perfected the vertical bar necklace – a classic piece to wear everyday and perfect for layering with other necklaces. A small diamond at the end adds a touch of sparkle.
ETHNICLOOM x DNY – Senna Tote | Camel
Limited edition bags made in collaboration Ethnicloom and ZA Design & Art
RAFAEL INDIANA – The Babylon Lion Ring
Crafted in 24k solid gold & 925 sterling silver. Hand finished & hammered for antiquity texture. Rafael Indiana applied a special technique to age the gold by scraping a superficial patina.