Traveler: Irem Ersoy
What is your most unforgettable Escape?
Every Escape of my life has made a great impact and has had special meanings for me. However, this last trip I went on was the most unforgettable because it is almost post-corona time and the idea of getting out of the city we've been stuck in for months seems the best. To explore the natural beauty of the country that I live in was truly amazing.
What was the purpose of your travel?
I graduated in June from Architecture School, which was an extra-exhausting process because of Covid-19. For months, we could not even get out of our houses, take a walk by the seaside, have dinner with friends. The purpose was just to leave those days behind and take time to have a vacation with the people I like the company of.
With how many people did you travel?
First, we planned the trip with my boyfriend. So, we were two. Then, one of my best friends decided to tag along and we were three. Later, my boyfriend's sister and her boyfriend made a plan to meet with us at our first destination. So then we were five! Five amazing travelling buddies I could only wish for.
Where did you stay?
The first stop was Bodrum. We stayed in a camping area called the EcoFarm in Gümüşlük for 3 nights. The tangerine and lemon trees cast a shadow area for the tents and it is the most important thing when the heat is taken into account under the mid-summer sun.
The next stop was Fethiye. There is this beautiful camping site called Pastoral Vadi, where only the volunteers work. The place was built by an architect who decided to work on ecological building constructions. Being in a jungle, away from the city made me realize how fast we live and consume.
The last stop was Kaş. We went to KaşKamping to stay in tents; however, after seeing the bungalows with beds and an air conditioner, we decided to stay there instead. It may be the best decision we made throughout the whole vacation.
What did you most like about the trip?
I liked how everything went so smoothly without even having to try. This trip was all about spontaneity and each member of the group contributed amazing energy. In just one day, we visited Akyaka where I had a chance to observe the architecture of the city and I also learned kite-surfing for the first time. Then, we visited Kaunos Ancient City and Iztuzu Beach on the same day. These were such spontaneous and carefree days that I didn't even have a moment to feel tired.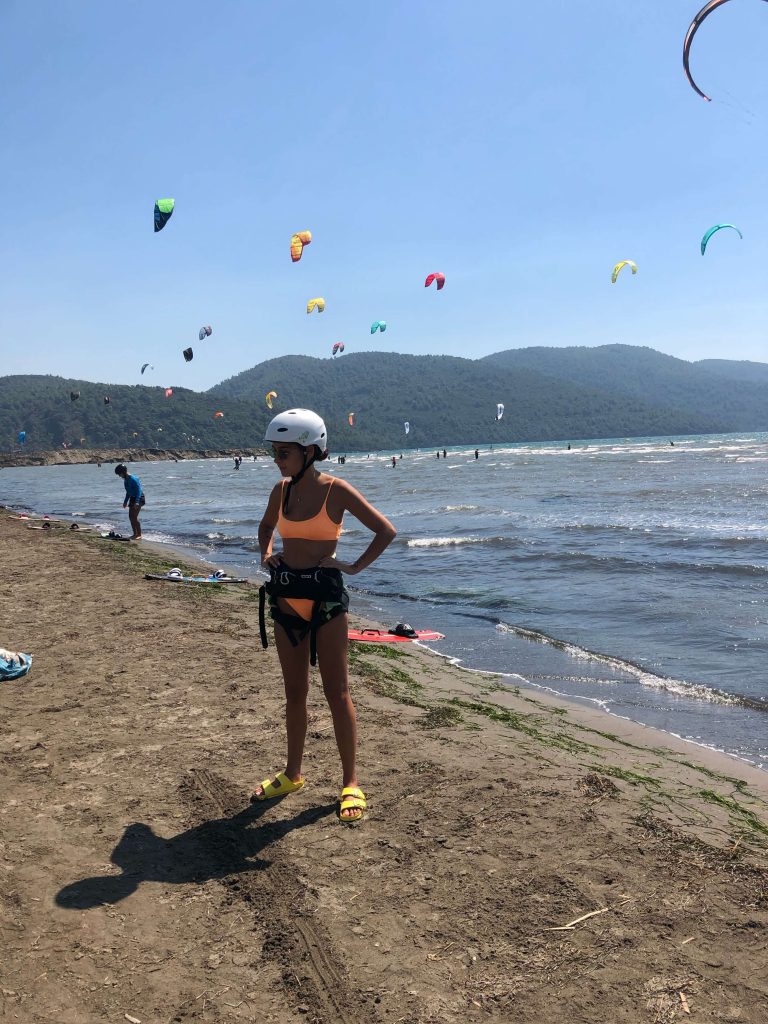 Could you share an unforgettable memory about the trip?
While walking by the water in the depths of Saklıkent Canyon in Fethiye, we suddenly decided to take out our clothes and swim. It was so cold that I couldn't feel my toes. Every time I dived under the water I felt my brain freezing. I noticed some people staring at us and this made me feel especially free. We cared about not a thing nor another person, and were just having the most fun.
Your most surprising find during the trip?
I think it was the Kral Mezarları in Fethiye. I studied architecture for 4 years and I am ashamed of not knowing that these wonderful architectural masterpieces existed before this trip. People always wonder how the Egyptian pyramids are made and I think these Kral Mezarlığı must raise the same question.
Favorite restaurant(s) or food you have tried during your trip?
Since we kept our stay at the cheapest, we decided to eat some good food and drink some good cocktails. Here is the list:
Bodrum:
Amanda Bravo: Every dish on the menu is very basic yet so special. This restaurant may be one of my favorites in the whole world.
Kavanoz: I loved the Chili Margarita and other cocktails as well; however I can't say that I liked the food as much. You can give the mücver a try though.
OX Burger and Winehouse: I claim that this is the best burger house in the world. I recommend the Ox Burger and the Blue cheese Burger.
Kaş:
Bunbun: The favorites of this restaurant were Bunbun with meat and ayran with basil. The bunbun breads were very soft and tasty.
Viva Kaş: I love Mexican food and Mexican cuisine and this cuisine is not really common in Turkey. When we found this place I got so excited I couldn't wait for the reservation time to come. The food was worth it. I loved the tacos the most but every other dish was also very delicious.
What are the must tries of the city?
In Fethiye, you should definitely visit the rock-cut tombs in Kaunos and Iztuzu Beach. You can also climb a huge number of stairs to another rock-cut tomb located in the city and observe Fethiye and the Mediterrenean Sea from above.
In Kaş, you have to spare a day to spend in Kekova, Üçağız. If possible, go canoeing around the rocks. You will find the most beautiful spots for photo shooting. You cannot miss the sunset on this spot. Go by car if you can because the boats stop at this point just for an hour.
Any hidden gems you could whisper to us?
I would recommend a boat tour to the beach to experience the labyrinthine channel with the beautiful view of only the tombs and nature. There is a Caretta hospital in Iztuzu, Fethiye, and if you are lucky you may run into Caretta turtles hatching on the beach.
Would you go back?
Of course I would, but a new experience may be even better than the best one. So I don't recommend living in the past.
Could you list a few of your favorite finds you came back with?
I love wearing kaftans almost every season of the year. At the '74Escape pop-up store in Bodrum, I found the most delicate and stylish kaftan brand SAYE. Other than that, we met a French artist in Kaş. He has a studio, called LikyaArt, and makes colored wood engraving of the pieces in the city left from the Lycians. Also, I really liked the ceramic pieces in Atölye Pişmiş Toprak. The artists and the owners of the shop were also from Istanbul and were eager to teach us about their work.
Any tips that might be useful to know before going there?
I think one of the challenges of this trip was the weather. It was so hot in the Fethiye and Kaş region that we weren't able to visit any of the ancient cities we wanted to. On my next trip to this region, I would definitely choose to come by in late-September or October.
Next stop you would like to visit?
I would like to visit Hawaii once everything is back to normal.
What does traveling mean to you?
Traveling is all about experience. I am a home-loving person, so it is always a bit hard for me to leave my home. However, the idea of new experience excites me to get over this feeling.