1. Tell us briefly about the identity and philosophy of your brand? How is it inspired and influenced by the cornerstones of the store this summer, craft, culture & creativity?
Nackiyé is a collection of artisanal garments savoring the charm of the Eastern Mediterranean. Named after our great-grandmother, Nackiyé has always been a reflection of our notion of aesthetics inspired by childhood days spent in sleepy fishing towns, transforming into glitzy resorts with a mix of socialites and one-name celebrities alighting in the summer months for lazy days by the sea.
Something that blends the escapism and naive simplicity of the Eastern Mediterranean together with the lifestyle of modern times; that was what made Nackiyé in the first place.
2. How is it tied to travel?
We designed Nackiyé for the modern-day globe-wandering person. A variety of local dress styles, kaftans and harem pants move in fluid forms and vibrant colors syncing with the spirit of the destinations of our past.  We're after a relaxed elegance with uncomplicated affluence and a hint of subtle seduction.
3. For what reasons do you travel? 
Simply to be able to break-free. A treasurable trait only children seem to have these days.
4. What are some of your most unforgettable escapes that have shaped and inspired the identity of your brand?
It's such a mix. There's a bit of Kutahya and Tokyo, a big dollop of Aegean and some South America, a dash of Marrakech, a huge sprinkle of Istanbul and so much more.
5. Where do you search for inspiration? 
Revisiting childhood dreams, family treasures, architecture and landscape design (Defne's background in architecture), inspiring texts (my background in political science), art, local crafts, flea markets, nice museum libraries (V&A!) and looking at people in markets, cafes, ferries, airports… etc.
6. What's one piece from your own collection that you always bring on travels?
The Antiparos One-Shoulder Dress!
7. What are some of your favorite escapes here at home, hidden gems in Turkey?
For us, that must be our family home-town Bodrum, to which we've been traveling to since we were babies for the past 40 something years. We remember it well as a village with no roads, traveling through tangerine fields either on Land Rovers or camels. That memory is unbeatable.
8. Share with us one of your favorite travel memories or anecdotes..
The above!
9. What about a piece that's perfect for a holiday on the Turkish riviera? 
And this would be the Grand-Bazaar Dress.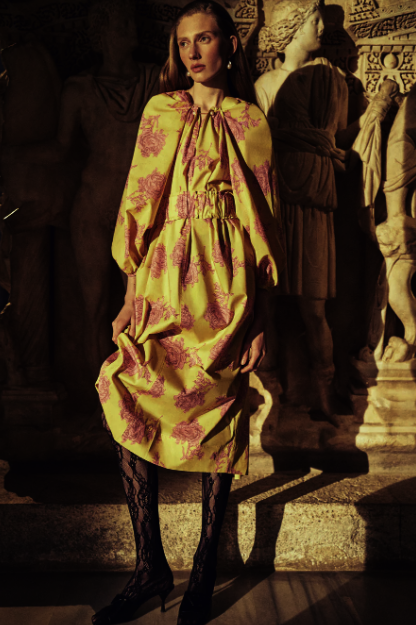 10. Favorite travel film or book?
Stealing Beauty!
11. Where are you dreaming of escaping to next? 
Traveling back in time?
12. What does traveling mean to you?
Breaking-free and dreaming with no limits.